About Payment
—— Payment Methods ——
1. PayPal
When you place an order with Paypal you will be redirected to the PayPal payment page, where you can confirm your payment by logging in with your PayPal username and password.
2. Credit Card or Debit Card
a) You can pay with a credit or debit card directly.
b) You may still check out even without a PayPal account. You can pay with credit or debit card options of PayPal, Visa, MasterCard, American Express, Discover,etc.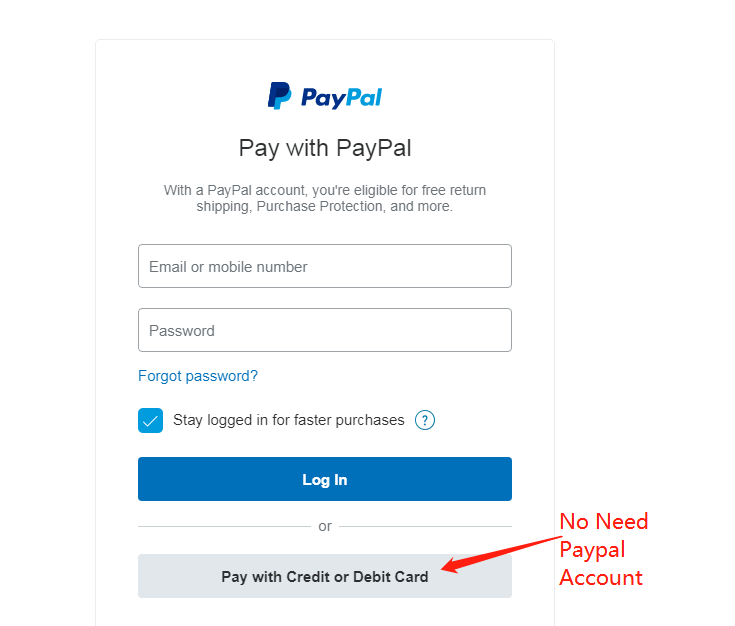 3. Layaway Payment (No Interest, No Hidden Fee)
We offer you an interest-free layaway payment option. The approval process is fast, with no hidden fee. You can lock in your favorite doll at the best time, and pay over a period of time for your doll. Learn more here.
4. Paypal Credit
Buy Now, Pay Later.
Get it now and pay for it over 4 interest-free payments, every 2 weeks, with no impact to your credit score.
No Interest if paid in full in 6 months on purchases of $99+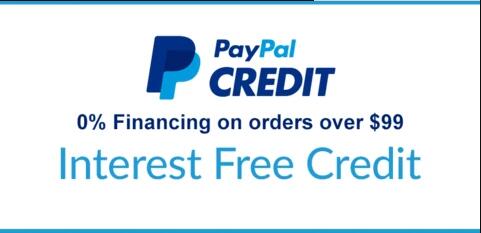 PayPal Credit – How It Works
(1) Apply For PayPal Credit - Get Credit Decision in Seconds
(2) Fill out a quick application and get a credit decision in seconds. If approved, shop instantly with PayPal Credit right from your PayPal account.
—— Why does my payment fail? ——
1. Common Errors That Cause Payment Failure?
Most of the time the cause might be that your bank is declining the payment. Call your credit card issuer to enable a transaction from sexindoll.com.
2. Credit/Debit Cards Or Billing Assress Info Does Not Match That On File With The Bank..
The credit card issuer may decline a charge if your provided billing address is different from the information on file. Such as: Incorrect account/billing details (card number, expiration date, billing zip code, CVV/CVC); purchase not authorized by the card owner; expired credit card; ect. The payment processor rejected the payment due to the anti-fraud billing address or card verification checks. In these cases, the payments remain in a pending state and were not received by Sexindoll. Since the processor has not completed the transaction the funds will be rejected and will be automatically returned to your account.Please double check the credit card information you have entered and make sure your billing address matches this information exactly. If this is the case, you should contact your bank for additional assistance.
3. Your Card is not Supported.
Depending on the country in which you are located you might have to call your bank to check the limitations of your card account to authorize your credit card for online or overseas transactions.
4. Is PayPal Blocking the Purchase?
Check if there are any Credit Card or Debit Card issues (such as an invalid card, expired card, amount exceeds daily limit, the card is disabled, etc.)
Credit Card or Debit Card issues with International transactions (Ensure the card you are using is allowed to buy online from overseas merchants).
5. PayPal Receipt Error
If you are receiving a receipt error for a PayPal order then likely there is an issue with your PayPal funding source. Please contact PayPal.com support for more information.
Last but not least, note that you should be able to receive detailed information for any failed or successful transaction from your bank. If a payment fails, do not hesitate to contact your bank or contact us.
6. If Your Payment Won't Process With Your PayPal Account Or You're Still Having Problems With Your Card, Try:
Make the purchase again in a browser that's in Incognito mode, or in a different browser, or
Changing your payment method at checkout, or use a different credit card or PayPal account, or
if none of these issues apply, please contact us with your order number (if you got one), name and email address, error notification and the screenshot of the error, we will check the details and assist you in continuing the order.
7. Internet Explorer is not Supported.
Please note that our system currently does not work perfectly with an In Internet Explorer browser. If you're using IE, then try switching to Firefox or Chrome.