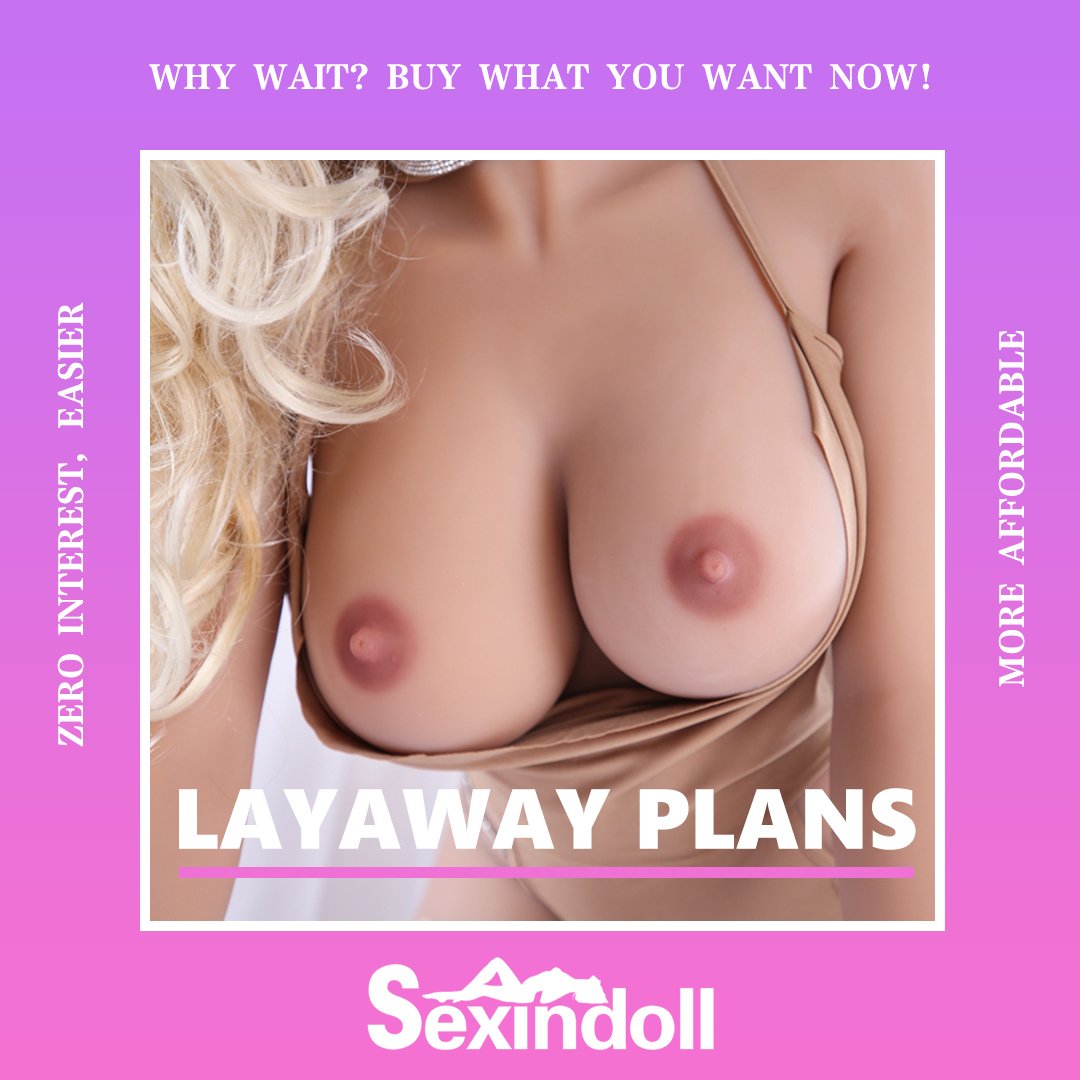 Sexindoll Layaway Financing Option
We want to make sex doll ownership a possibility for all budgets, so we've created a payment plan program:
Select your desired doll and pay only $50 to reserve it.
After that, pay for your doll in your own time. No monthly or weekly payments. You choose when to pay, and how much. No interest. No monthly fees. No credit checks. No approval is needed!
Instructions to reserve your doll:
1) Choose the doll you like

2) Write the dolls name (or paste the link) in the options box above

3) Click [Add to Cart] ( Please skip this step if you want to buy directly)

4) The Order Value

The default single price for the layaway payment is $50. Switch the quantity to match up how much you want to pay.

Eg: If you would like to pay $200. You simply need to change the quantity to 4 ($50*4 = $200).

The first payment must be at least $50.

5) Go through the checkout

6) Congrats! Your doll is reserved!
Future Payments
Come back to this link and select how much you want to pay for the remaining amount.

E.g:

Total order value = $1699;
Already paid = $50
Remaining to be paid = $1649
You would like to pay $100 more now?

Simply write the doll's name (or paste the link) in the options box above, then go through checkout.
The amount left to be paid for your doll will now be $1549.

No, how it works if I would like to pay any amount above $50? Or pay the balance in full?
Please you are welcome to reach out to our online service or email us for help.

Can I upgrade or change my order after making payments?
Yes. You will need to contact our customer support to change your order and calculate your new payment schedule.
Please confirm with our customer service before starting your layaway payment plan. 
We will send your doll right to your doorstep with UPS, FedEx or DHL once the final payment is done. You can contact us at any time to check your order balance. 
If you have any questions don't hesitate to ask! Our friendly staff will be happy to help you. 
You can find us on the live chat on the right hand side of the screen or email us at service@sexindoll.com
Attention: Like in all layaway programs, your item will only be shipped once the final payment is made. The $50 reservation deposit is non-refundable. Your layaway order will be moved into production when your order is paid by 50%. Once your layaway is paid in full we will ship out your order and email you a tracking number. Layaway orders are subject to a non-refundable 35% cancellation fee. Layaway orders will not enjoy any discounts.
Close (esc)
Popup
Now as soon as you place an order, you will get $20 Discount:FIRST
Promotions, new products and sales. Directly to your inbox.
Adults only (18+)
This website contains adult material and is only suitable for those 18 years or older.
Do you want to search for products ?